How to get a residence permit in Greece?
Citizens of all countries of the world who buy real estate in the amount of 250.000 Euros and above are given a residence permit covering the European Union. Greece is among the countries that allow the easiest residence permit by acquiring a property. The whole process can be completed in 3 months.
Alimos, Greece

Luxury and stylish flat for sale at Alimos,200 mt from the sea…
We provide consultancy in the real estate selection and investment in Greece . There are more than 3000 properties in our portfolio for the right choice especially in Athens and Greek Islands.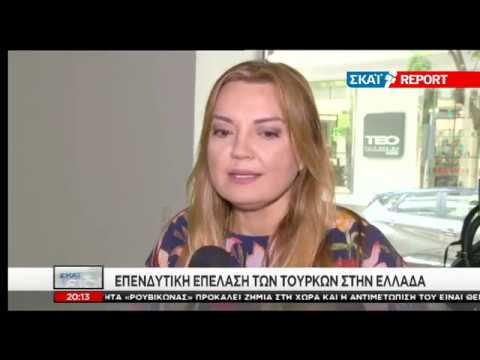 The trustful news channel of Greece Skai TV have made an interview with Selcan Turk (director of Greece…
Why real estate in Greece?
Greece with its unique landscape, world-famous islands, crystal clear waters, fully preserved nature and authentic cuisine offering natural products,it is extremely attractive for everyone, in particular prospective real estate investors. Relatively lower real estate prices in Greece compared to some other European countries highlight the country's promising potential for capital investments. Moreover, living standards here are much higher than in Bulgaria or Montenegro, as accompanied with very low crime rates. You do not need to worry about your children; they will move into a nice future in a safe environment. Security and peace are just one of the core assets offered in Greece that people ambitiously seek and hug. Greek government has been granting permanent residence permits to real estate investors and family members recently, so investing in real estate here has become much more attractive for the citizens of third world countries. When you invest more than EUR 250,000 in a property, either a housing, land or commercial unit, you acquire a 5-year residence permit that is regularly renewed as long as you maintain your ownership of the property. In this sense, Greece Real Estate brings to you a vast variety of real estate alternatives directly offered by their owners throughout each corner of country, including the mainland and islands. Besides, thanks to decline in real estate rates after the economic crisis, you can take the advantage of quite attractive opportunities to be yielding high ROI. We will provide you with the best advise and guidance regarding real estate investments and and settling/living in this country. We will also offer you full support and consultation both at the time of buying a property and during subsequent formalities, as well as best trading options.
Property and Real Estate Services and Investment Consulting
We provide expertise services about property investment in Greece and consultation and management of your property in the best way after sale.
Residence Permit Procedures After Purchase of Real Estate
According to the Greek laws, the people who buy properties of 250,000 euro and more are entitled to obtain the residence permit for themselves and for the members of their family for 5 years. If they continue to own the property, the residence permit is renewed every five years. With our experienced lawyers ,we complete these procedures for you and your family as soon as possible.
After The Purchase, Provision and Monitoring of Legal Issues.
For the purchase and after sale of the property in Greece our competent lawyers make all the necessary legal procedures and they may represent you legally.
Assistance for Tax Office and Bank Procedures Regarding Purchase of Property and /or Residence Permit.
For property purchase ,it is required the acquisition of TIN and opening of the bank account. After the purchase, the following steps follow: registration of the property, annual tax payment, if it is rented, the relevant tax payment, declaration of personal annual tax . We handle all these procedures behalf of you and we accomplish them systematically and just on time.
Building Construction or Renovation After The Purchase
In case you bought a plot, we care for construction and decoration of the building on the plot. If the property needs renovation or amendment, our experienced construction staff, materialize and monitor all the work.
Valuating and Managing Your Property After Purchase
After your purchase of property, if you don't wish to accommodate immediately, we can rent it on the long-term or short-term base by furnishing as well if necessary. We will follow all the procedures regarding the rental management and relationships with your tenants.