About Us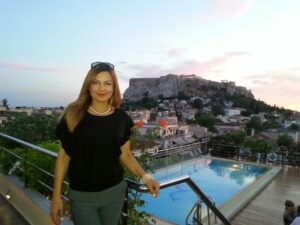 After economic crises in Greece, the real estate prices have been reduced up to %50-60 .Therefore, there is a significant increase demands of buying property in Greece from foreign countries,especially from those who lives at Non-European countries. This is the reason we are offering our services in order to consult people regarding to find and invest to the right and profitable property and to follow their procedures about applying and getting residence permission in European Community .
Cause it's very important to have a trustworthy consultant in a foreign country to assume not only to make most profitable investment but to materialize properly all your legal and official process regarding your and your family's residence permit. This will protect you from making mistakes about the issues extremely important during the process of buying property and applying settlement permit . In this way ,a good consultant will help you to save quite enough money and time.
I am married to Greek citizen and I 've been living in Greece since 2001. I am involving with tourism sector since than and I have my own Travel Agency recent years .  We are providing services to foreigners who visit Greece. Due to my deep experience in tourism, I know very well all destinations at mainland and Greek islands. So this experience had created a great vision about property business too. This is the reason that I started to offer consulting services also about buying real estate and/or living in Greece. Thanks to my high quality business and social network in Greece, I am able to offer the most efficient, trustful and fast resulted services and this helps you to adapt easily to your second home.
Our real estates and information of the legal procedures are always up to date according to amendments. Please do not hesitate to contact with me about any questions and concerns about having a property and living in Greece.